Touch Screen Stylus – Adaptive Styluses
Styluses are devices designed to interact with the touch screen of your device in the same way as your fingers do, but allowing greater precision. Adaptive Styluses allow users with different mobility impairments to access their devices in order to "write" on the touch screen as if they are writing on paper, allowing for input of handwriting, drawings, and other gestures.
Note: Accessories shown in this document come from international suppliers and their prices may be displayed in their local currency.
Type of accessory: Prosthetic accessories
How do you use these accessories?
Hold or secure your adaptive stylus depending on the model you have and place the tip of the stylus to the screen to select, write and draw among other functions.
These accessories vary in shape, size, and required pressure to suit your mobility needs and control.
These accessories connect to phones or tablets via:
Audio Jack: NoBluetooth: NoWi-Fi: NoMicro USB: NoOther: No
Is there any other piece of equipment required for this accessory to work properly with a phone or tablet?
No, if the material used for the tip of the stylus is compatible with the touch screen of your device then you should not need anything else.
Compatibility:
Styluses are designed to work with specific types of touchscreens. Please check compatibility with your supplier before purchasing.
Touch Screen Adaptive Stylus available:
1. Limitless Stylus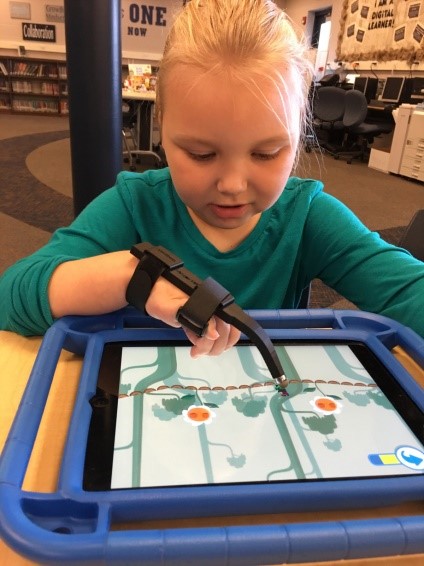 The Limitless Stylus is designed to wrap around the users wrist with two Velcro straps allowing users with limited hand mobility to control touch screen devices. The stylus is angled perfectly to fit the contours of the user's hand and has been designed for long term use and optimal comfort.
More information at: Limitless Stylus.
You can buy this accessory through an online quote request at Limitless Stylus.
2. Shapedad Steady Stylus
The Steady Stylus works for people who have difficulties holding an object like a pen, but who are able to firmly grasp something with their hand.
Key features include:
T-shaped stylus for tablet and smartphones
Aluminium pointer with a conductive fabric wrapped around the tip
Available in regular (adult) and mini (kids) sizes
No pressure or drag is required
Handle is 100 mm wide
More information at: Independent Living Centre
You can buy this accessory online at Etsy.
3. Shapedad Strap Stylus
The Strap Stylus is a stylus that can be strapped onto the hand and used to control your touch screen. It is available in a regular or ShapeIt model. The regular model is a pen stylus which can be strapped to your hand, while the ShapeIt model can be moulded to suit your needs. You can change its shape over and over again to ensure the best angle and control.
More information at: Independent Living Centre
You can buy this accessory online at Etsy.
4. Shapedad Finger Stylus
The Finger Stylus can be adjusted to fit around a finger and be used to access capacitive touch screens. The stylus can be bent according to the required position to access the screen. It is made from aluminium, foam, conductive fabric and rubber.
More information at: Independent Living Centre
You can buy this accessory online at Etsy.
5. Shapedad Mouth stick Stylus
The Mouth stick Stylus is a lightweight bendable mouth stick stylus for smartphone and tablet devices. It is available in three models: regular, pro, and lite, with each model containing the stick, a conductive tip, and a different style mouthpiece.
More information at: Assistive Technology Australia
You can buy this accessory online at Etsy.
Disclaimer:
Some of these accessories are only available from international suppliers. Therefore prices, dimensions, and standards will be based on international interpretations
Always check that the stylus you intend to purchase is compatible with your tablet or smartphone.
ACC547 - Touch Screen Stylus - Adaptive Styluses - Version 1