These applications include virtual keyboards that allow you to handwrite on your phone or tablet screen and it will convert it into typed text. This can be useful for individual who have lost their sight later in life and can remember the formation of letters and sentences.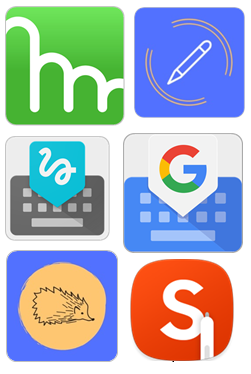 Access Needs:
Compatibility:
The compatibility of these applications will vary depending on the capabilities of each mobile device. While these apps can be downloaded on devices with given Operating Systems, the features and functionality of the app will depend on the capability of your mobile or tablet device.
It is recommended to use a stylus pen to use the full potential of these apps. Please contact your mobile provider or app developer for more information on compatibility with the app and any stylus accessory.
Keyboard Apps with Handwriting Features:
1. S Note/Samsung Notes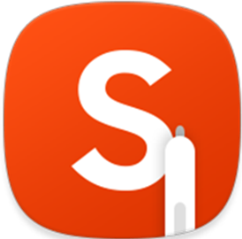 S Note is a note taking application which allows you to efficiently create, edit and manage notes. It allows you to handwrite notes on to the screen of the device and convert this to digital text. This can then be copied or shared via communication apps.
Compatibility: Requires Android OS 6.0 and up or Microsoft Windows 10 version or higher, however different devices will allow for different features to be activated.
Price: Free
More information at: Samsung S Note Web Page.
You can download this device from the Google Play Store.
2. Gboard
The Gboard app is a comprehensive keyboard application that offers many additional features to improve access to keyboard functions. This includes a handwriting recognition feature that allows you to handwrite letters and words on to your devices screen and it will convert that to text. This keyboard can be used across applications.
Compatibility: This app requires iOS 9.0 or later or Android OS 6.0 or later. However, the Handwriting feature is only available on Android devices at the moment.
Price: Free
More information at: Handwrite in Gboard Support Web Page and Gboard General Support Web Page.
You can download this device from the Apple App Store and Google Play Store.
3. Mazec3 Handwriting Recognition
Mazec3 uses handwriting recognition and predictive text to convert handwritten letters to text. It is designed as an input method; therefore it is an alternative keyboard that will work with any application that accepts inputs. It features multiple languages, auto and manual learning dictionary, and emoji input
Compatibility: Requires iOS 8.0 or later and Android OS 2.2 or later.
On Android, the "Convert Mode" that changes handwriting to text is only available in MetaMoji apps.
Price: $19.99 at Apple App Store. $20.99 at Google Play Store 19/04/2023.
More information at: Mazec3 Web Page
You can download this device from the Apple App Store and/or Google Play Store.
APP913 - Apps with Handwriting Features - Version 2