Phones and Tablet Mount Systems for Wheelchairs
A mount system is a group of elements that can be assembled together to securely hold your phone or tablet to the wheelchair in a position that is accessible for you.
Type of accessory: Mounting Devices
How do you use these accessories?
Phones and Tablet Mount Systems are assembled on your wheelchair, sometimes based on the recommendations of your occupational therapist or accessibility consultant. Once the mount system is installed, a phone or tablet can be secured to the mount so you can start using it.
Mount Systems are usually assembled from different parts, including phone and tablet grips or cradles, supporting arms or goosenecks, and clamps and other elements that secure the mount to the wheelchair. The combination of those elements will determine the right system for you; therefore we recommend consulting with an expert before attempting to purchase any of those elements.

Phone and Tablet Mounts Brands Available in Australia:
Phone and tablet mounts are a common accessory available from many wheelchair retailers in Australia. However, not all retailers advertise or sell these products on their websites. Some retailers that confirmed to us that they sell wheelchair mounts are: Total Mobility, AidaCare, Active Mobility, Magic Mobility, GTK Active Wear, Pride Mobility, Specialized Wheelchair Company, Sunrise Medical, Breeze Mobility and Permobil among other retailers.
1. RAM Mounts
RAM® Mounts is a leading manufacturer of rugged and versatile mounting systems, protective cases, and docking solutions for phones, tablets, GPS units, cameras, laptops and other mobile devices that can be attached nearly anywhere.
Ram offers a choice of 3 mounting solutions to fit 2 different types of device holders (grips).
Ram wheelchair mounts are:
Leg Rail Mounts
Set Track Mounts
Armrest mounts
Ram device holders (grips) are:
RAM X-Grip for Tablets
RAM X-Grip for Phones
Further information at: RAM Mounts for Wheelchairs
You can buy these products from Breeze Mobility and Magic Mobility and among other retailers.
2. Therafin Wheelchair Mounts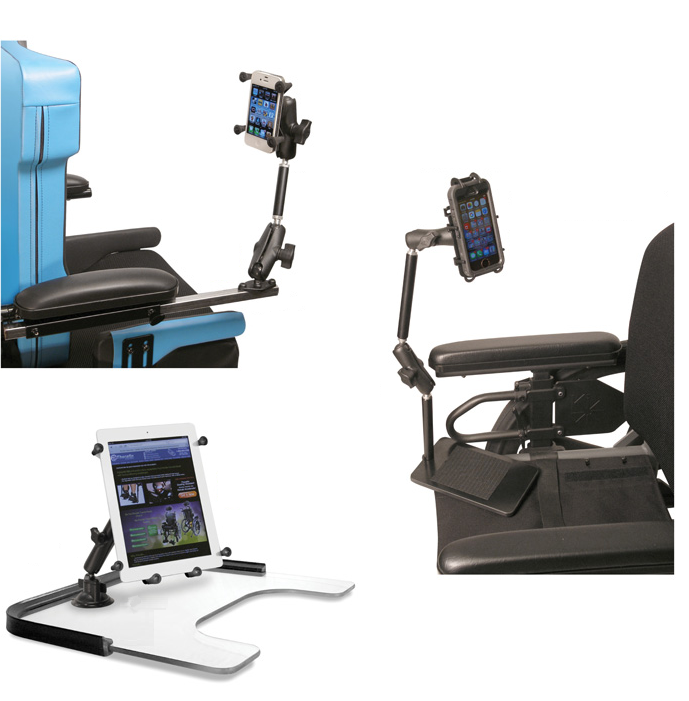 Therafin Corporation manufactures and sells rehabilitation and home health care products through a network of dealers and distributors since 1968.
Therafin offers 5 different wheelchair mounting solutions to fit 3 different device holding choices.
Therafin Mounts are:
Frame Mount attaches to vertical frame member
Armrest Mount attaches between arm pad and armrest tube
Tray Mount attaches to tray surface with suction cup
Seat Cushion Mount attaches between a seat sling and the cushion, using hook and loop
Channel Mount attaches to channel (track) on the armrest, back or seat of a Permobil Corpus 3G® or Pride Quantum TB3® chair.
Therafin device holders are:
iPad Mounts
Tablet Mounts
Phone Mounts

Further information at: Therafin Communication Device Mounts Webpage
You can buy these products from Paragon Mobility.
3. Stealth Products LLC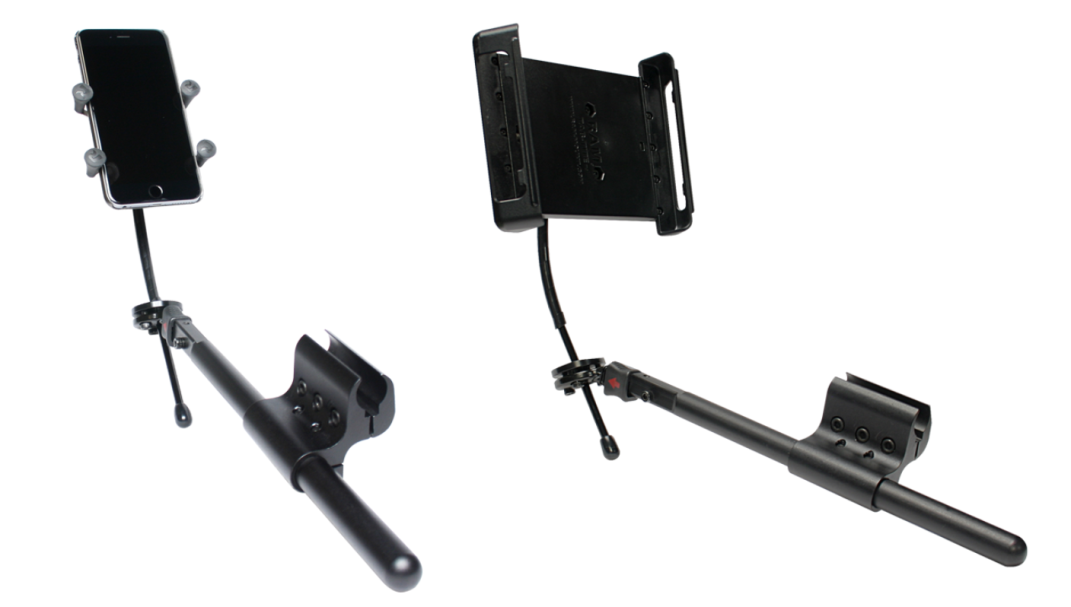 Stealth is a U.S. manufacturer with years of experience in the rehab market. Launched in 1999, Stealth Products began in response to a need for versatile, high quality head and neck positioning systems, as well as switch site location hardware.
Stealth offers a range of mounts for tablets and phones, and also provides mounts that are designed to be compatible with Permobil, Invacare and Quantum power wheelchairs.
Stealth mounts provide 2 main mount systems:
Universal Armrest Tablet Mount
Small Devices Universal Mount
Both mount systems utilize RAM phone and tablet grips.
Further information at Stealth Products Mounting Solutions Website
You can buy these products from Pride Mobility Australia
4. Daessy Mount Systems
The DAESSY Mounting System is a component based system that allows for customization and limitless configurations to meet mounting needs.
The core elements of the DAESSY Mounting System are the Standard DAESSY Wheelchair Mounts, the Desk Mounts and DAESSY Rolling Mounts. These mounts are available in a standard configuration, or can be modified with common variations, component substitutions or additions for more customization at the user level.
Each of the standard DAESSY Wheelchair Mounting Assemblies has unique features and limitations. The choice of appropriate mount assembly for a specific situation depends on various factors the style of wheelchair (manual, power, tilting), the type of device to be mounted, and the requirements of the user.
More information at: Daessy Website
You can buy these products from Communicate AT and Technical Solutions Australia
5. REHAdapt Monty 3D Wheelchair mounts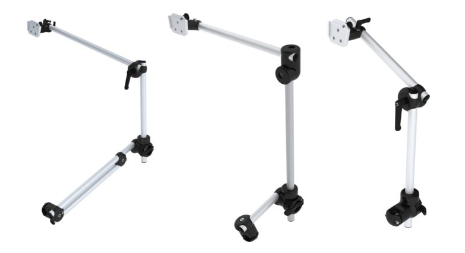 The Monty 3D Wheelchair Mounts consist of aircraft-grade aluminium tubes with outstanding mechanical properties and are perfectly round. That precision translates into maximum clamping force. Rehadapt's signature tube joints allow for full 360° adjustment in all dimensions.
The mount can easily be swivelled into three positions (operation, transfer and parking) to allow the user in and out of the wheelchair. The universal device socket (UDS) includes a quick release system which allows for the safe device attachment within seconds.
REHAdapt Monty 3D provides the following mounting types:
Standard Mounts: Three-tube solutions for most wheelchairs.
Eye Control Mounts: Double tubes for more rigidity at higher load.
Fold Down Mounts: Folding mount for easy exiting and parking.
Short Mounts: Short mounting length ideal for children's wheelchairs.
Curved Mounts: For extra offset without joints.
More information at REHAdapt Monty3D Wheelchair Mounts Website
You can buy these products from Link-AT Assistive Technology and Communicate AT.
6. Mount'n Mover Mounts
The Mount'n Mover mounting systems provide versatile and accessible mounting solutions for devices and trays on wheelchairs, tables, beds, or floor stands. For wheelchairs, the Mount'n Mover website has a convenient list of wheelchair models so you can find the correct hardware combinations specific to your individual setup.
Mount'n Mover also offers a new range of power mounts, which are motorized mounting systems, making it possible for anyone to move their mount with the flick of a switch.
Mount'n Mover offers the following models:
Dual Arm
Single Arm
Tilt'n Turner
Easy Mover Single Arm with Quick Connect or Tilt Plate
Easy Mover Dual Arm with Quick Connect or Tilt Plate
Simple Mount Small
Simple Mount Large.
More information at Mount'n Mover Website
You can buy these products from Communicate AT
7. AbleNet Mounting Kits
AbleNet manufactures a number of universal mounting kits that can fit a number of wheelchairs in the market. These kits can be used for phones, tablets and switches.
AbleNet range of mounts includes:
Further information at AbleNet Mounting Solutions Website
You can buy these products from Spectronics
ACC534_-_Phones_and_Tablet_Mount_Systems_for_Wheelchairs_-_Revised_2019_09_27.docx